"Back in 2019…."  
"I'm 5 seconds off place from last year.. well 2019 I mean…"
"I used to run…"
"My times are down"


These are all things I have heard several times this year, and have also said myself.  Yes, comparing data is useful, but we have to take all data points into account.  After listening to Ken Hill podcasts on repeat all  year, he calls out that lap times should be the last thing to focus on.  They are a result of every little thing we do.  But let us really look at "everything".  It's more than suspension, gearing, mechanical / bike changes.  How about physical fitness?  Mental fitness?  All good there?
How I feel in Turn 3 vs. reality: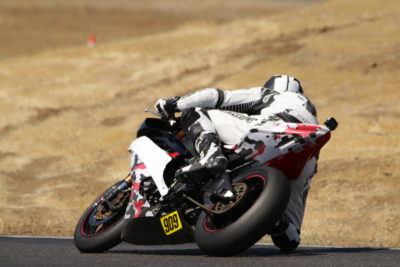 Now – how much did you ride in 2020?  For me, I did one session at Buttonwillow before we packed it up at lunch, then going straight to the hospital when I got home with a Staph infection I picked up somewhere at the track.  So why in the world did I think I could hop back on the bike a year later and go throw down the times I was doing "back in 2019"?  Because riding is a perishable skill, and I didn't want to admit to myself that I was the reason, and not the bike.
Sadly, I spent most of the three previous rounds pretty upset that my times weren't what they used to be.  It was even more difficult to see the 7 other (and sometimes 1 other) novice riders pull away, disappearing out of view by lap 2.  It wasn't until end of round three that Hugo looked me dead in the eyes and said, "Seat time.  No substitute for seat time.  You gotta get out there and ride.  Ride a bike at home, ride any chance you can get, just get on 2 wheels."  Turns out, most of the people leaving me in the dust were riding and racing as much as they could in 2020.  Street, dirt, track, AFM.  They were putting in the work, and not letting that perishable skill spoil.  Lesson learned!
So here we are, good ol' Round 4 at Thunderhill Raceway!  Yes.  It's hot.  It's freaking hot every year.  I had a secret weapon, however.  And it worked!  More on that later.
My goal for this round was to simply have fun.  Don't look at lap times, pick a couple things to work on each session, and just freaking ride.  Final call for my first Saturday practice, warmers, off, lets go!  A couple laps in, my throttle starts chopping.  I've had this happen before, and it was the quick shifter.  Usually I can get it to reset by turning the bike off and back on, but that wasn't working this time.  I pitted after lap 2, and flashed it from my phone with some updated settings.
2nd practice session of the day – boom.  Quick shifter still giving me the same jerking throttle chop issues on the first lap.  Immediately pitted, and knew what must be done: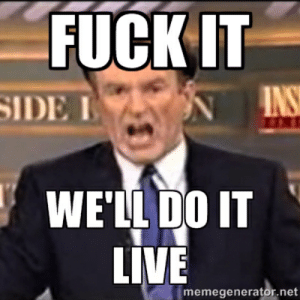 I took the tail off, disconnected the QS, and went out to ride for my 3rd practice session.  It worked! I spun a few laps, and had fun moving around the track.  When I came back in, I didn't look at my times, but was immediately told I hit a 2:07, which was faster than my race pace for round 3.  "oh nice… that's cool" I thought.  For whatever reason, I said, "that's enough, then.  Lets just have fun" and parked the bike, shoving all the wires into a ball and jamming in under the tail.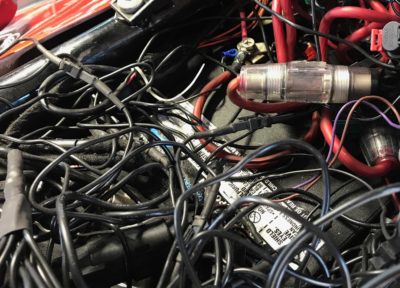 My buddy on his ZX-10 was signed up for Clubman Heavy, but we wanted to actually race together on Saturday.  Thankfully, I was able to change my Saturday race from Clubman Middleweight to Clubman Heavyweight, battling against the big bikes.  Never done this before, but hey, I love the "Clubman Chaos" that comes with a bunch of new racers battling it out, so lets dip into the big boy pool and see how that is.  This is not to be confused with the inflatable pool in the back of a truck filled with shirtless dudes.
AND.  IT.  WAS.  AMAZING!  (Clubman Heavy, not the truck full of dudes)
Gridding up for Clubman Heavy, the first thing I noticed was how much prettier these racers bikes were.  There were some extremely nice and detailed bodywork and matching leathers.  Like damn!  There was a lot of work and attention to detail put into some of these bikes, meanwhile, the 600 grid is all superglued and zip-tied together.  Ok, lets focus.  I'm going to do my best, but lets be realistic.  This is a HP track, and I don't have any HP compared to these guys.  I fully expected to see everyone leave me in the dust by T9, if not sooner.
1 board sideways – revs go up
GREEN FLAG and we're racing
I got a really decent start from the back of the grid, and found myself getting ahead of these bikes by Turn 1, meanwhile my buddy on his ZX-10 is freaking GONE, battling for top position (Go get em' Don!)  But I'm hanging with these big bikes!  I was able to close in on some, make some inside and outside passes, and would get passed right back where the HP really makes a difference.  A big part of my strategy quickly shifted and had to learn in a small amount of laps where I was strong vs. where they were strong.
I traded positions and battled more in this one race than all the other previous races this year combined.
WHITE FLAG – last lap
By this point, I was closing the gap on one rider who I was behind for a bit, and put my plan in place.  I knew I could get through T12 and T13 quicker than he could, so lets get as much drive as possible, get close enough that he knows your there between T13 and T14, and brake along side him on the inside.  I thought about this the whole last lap, keeping him close, but allowing me enough distance to get the drive I needed.  It happened exactly how I imagined it.  Closed the gap half way from T10 to T11, got on the gas and drove as hard as I could against a 1000cc GSXR.  I got in striking distance, he braked before I did, and that extra fraction of a second before braking got me in front.  I did go pretty freaking wide, but enough to not have to check up or give the position back.
T15 was all that was left, then a very long front straight.  I got as much drive as I could through T15, tucked as tight as I could, and ran a defensive line to the checkered, and secured that spot.  YES!!  I was so freaking happy to actually have a race where I was able to compete, and not just wave goodbye to the grid.
As I came in, I was told I ran a 2:04.  Lol what?  Sure whatever, I just had fun, and felt great doing it.
Sunday races – Signed up for 600 SBK, F1, and 600 Superstock.
First race for me was 600 SBK.  I was still finding the right timing for upshifts without a QS, and forgot the mantra of, "shift like you mean it".  So As I went to downshift and brake into T1, I hit a false neutral that sounded like throwing 11 forks into a running blender, and my brain decided the best and safest thing to do would be to just stand it up and go into the dirt.  I was slowly closing the gap on two riders, but the 30 seconds extra for that lap spent in the dirt left me no chance, so I finished.  But hey, I learned something, I had fun, I was competing finally, and I didn't crash.
F1 – This has always been my favorite race. The grids for novice 600 races was bigger than normal, and was happy to be P2, going up against Oscar Luna.  When the green flag dropped, I got a bit of a jump on Oscar, momentarily getting ahead, but I was able to hold 3rd for longer than I ever had before.  Lap by lap, I would get picked off by the competition – and that was great.  Their passes were clean, and they reminded me of what is possible in those areas.  The best part was I was actually hanging with these guys for the first time all year, instead of being alone, and waiting for the Experts to lap me.  I finished near the bottom, but all my laps were 1/2 second apart from each other.  2:05's-2:06's.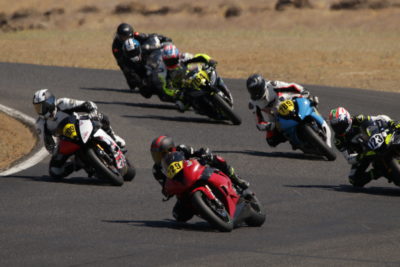 Before the last race of the day for me, I noticed my suspension was close to bottoming out, so with some advice, we added a bit of preload, but I didn't think about how that would change how the bike handles until way too late.  I found myself not being able to tip the bike in the way I was used to, and after a couple laps I found myself off in T10.  I'm getting really good at this dirt bike stuff on an R6!  Got back on track, and used my last pace gap to get some sweet Turn 2 pics.  That walk out to T2 to shoot photos is brutal – Thank you Oxymoron Photography for being out there
Also, thanks for the turn workers for being out there.  AFM has been light all year – I can't remember the last time racers were instructed to pick up their bikes after a crash if it's safe to do so.  Know anyone who would want to come out for a weekend and make money being closer to the action than anywhere else?  Have them email crew@afmracing.org
Oh yeah, and the secret trick to the heat?  Panty liner stuck to my forehead to keep all the freaking sweat from going into my eyes!  I now have all sorts of ads for feminine hygiene products now, but small price to pay!
See ya next round!
Facebook Comments